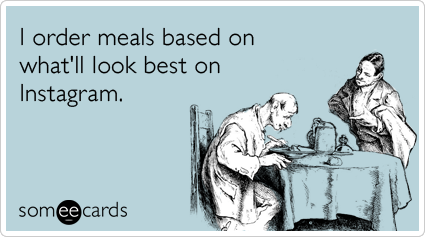 Heheh


Find me on Instagram @ Ladybugg07
I'm sharing some of my absolute favorite places to eat around the country today.
I love to travel and love discovering new places to eat and experiencing new foods.
I've been to Texas a million times so there are quite a few places in Texas alone that could fill this post up. But there are also several others so here it goes...
MICHIGAN
Ferndale
We ate here in August of 2013 while traveling to Bloomfield Hills, Michigan for a wedding.
It just so happened to be a Diners, Drive-Ins & Dives spot as well!
This place is located in Ferndale and was only about 15 minutes away from where we were staying so we absolutely had to go!
I had gingerbread waffles with sautéed apples, cherries and cinnamon syrup!
Ted had the "Green Eggs & Ham"
-Eggs with roasted poblano pesto & jack cheese with seared city ham-
I was SO jealous of this meal. While my waffles were delish, this was off the charts!
Honestly, If you get the chance, GO to this place! It was so good!
And for fun ~ Here's a pic of us at the wedding :)
This is hands down, an absolute MUST VISIT every time we're in Texas.
I've had quite a few things on their menu.
My favorite app is the Range Rattlers...
Jumbo jalapenos stuffed with whole shrimp and cheese then fried! HELLO!
Then once you've stuffed your face with these delicious pieces of heaven and all the Shiner Bock break you can handle... go for this....
Steak & Shrimp
It's ridiculously delicious!
NEW JERSEY
This is one of the best sushi places I've eaten at. It's located about 45-55 minutes from
where I live and it a bit pricey, but totally worth the drive and cost.
~ Mango salsa, shrimp tempura, avocado, Serrano ~
I was hesitant to get this at first because I was afraid it would be too spicy, well I was way off. It was perfectly spiced and oh so delicious.
Next up ~ My home town favorite!
Via Napoli
Ya'll I can NOT get enough of this place. We ate there just last night. It's so delicious.
We order in from here, we get pizza from here, salads, apps, you name it, we eat it!
My favorite thing is their 2 for $25 menu!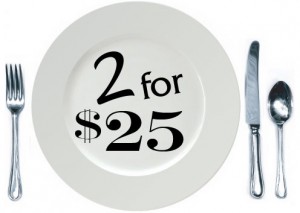 You get all of this for just $25 per couple.
For TWENTY FIVE dollars people.
This is their amazing Pizza selection, which changes often so you never really know what you're gonna get.

Couldn't you just eat.it.all.

So back to the 2 for $25
We usually split the Spicy Shrimp appetizer which is 6 big shrimp in a spicy marinara sauce
We each get a salad with their white balsamic house dressing
I usually get the chicken parm over angel hair
Ted mixes is up - last night (yes, we ate there last night) he had the gnocchi Bolognese
And we usually both get a cannoli - I get a chocolate dipped one because, well, everything is better dipped in chocolate!
So if you are ever traveling to any of these places, give these restaurants a whirl.
I promise it will be worth your while.
And for kicks, here are a few other fabulous places to eat...
Zinburger
- AMAZING Burgers! AND Zucchini fries!
#Truth
Thankful that it is Friday people. Can't wait for this work week to be done.
Lots of fun things happening this weekend including the annual Halloween Parade!
Happy Friday! Happy Weekend!